My Music Videos & Music mp3's
Hey check out my music videos.  These are all original songs I wrote.  Some of them are new ones and some are ones I wrote years ago.  I will be adding more all the time.  
"Bring Back the Funk." Inspired by the song, Uptown Funk by Bruno Mars. Filled with pictures of the greatest Funk artists of all time, including Prince. 
"I Can Feel the Wind." 

Depicting what I feel the homeless think about every waking day. It's not a pretty picture but I hope it brings awareness to all. 
It's a song I wrote for the LGBT Community, an uplifting song to share a heartfelt message and bring happiness to all. 
"Twenty Little Angels."

​ When I heard about the shootings that occurred at the Sandy Hook Elementary School in Newtown, Connecticut, I  was filled with so much emotion.  I couldn't stop myself from writing a song for these beautiful children who lost their lives. 
"So Good"After seeing the movie Fifty Shades of Grey I became inspired to write a song that fits the mood musically.
"Love Story"  A song written by Francis Lai for the movie Love Story. This is my version on the piano.
To hear some of my music just pick one of the songs below and click on it.  You can either download it or listen to it on your player.
Bring Back the Funk - mp3

Come Give Your Love - mp3

It's Only In My Mind - mp3
I Can Feel the Wind - mp3

I Can't Give the Love - mp3
I've Got to Have You Baby - mp3

Marcela - mp3
Rock it on Through the Night - mp3

Someday - mp3
A Christmas for Mama - mp3
Twenty Little Angels - mp3

Love Story - mp3
This is a song from Godspell.  Not one of my own, just a beautiful song I just had to sing and record.

On April 19th.1995 the second worst terrorist act in the USA  struck the Federal Building in Oklahoma City killing 168 people. I was so moved by the devistation that my emotions got the best of me.  The only way I could release them was by writing a special song to honor those who lost their lives. I was blessed by the fact that all 3 television networks played my song during that week so I could get my message out there. Click below to hear what my heart had to say.
A Beautiful City - mp3
This song I wrote in 1996 around a time when all you heard on the news was children who were becoming missing.  Of course I again needed to write about it.
In Oklahoma - mp3
Missing Children - mp3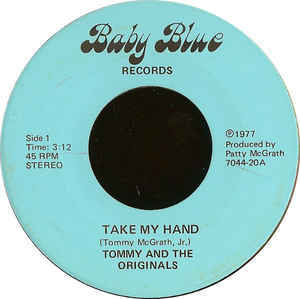 Take My Hand - mp3
Here is some nostagia from the old days of Tommy and the Originals.  this is a recording we did way back in 1977.  Everyone was making vinyl records at that time.  This was a 45 featuring two songs I wrote. Side one was called,"Take My Hand," and side two was the first song I ever wrote in 1971 called, "All In You." Actually the most popular of the two songs ended up being side two, oh well.....
All In You - mp3
Link to Baby Blue Records
This is a few pictures of our studio.  We call it, "Original Sounds Studio."  My partner Joe Ewing adds his expertise on the guitar, bass and vocals.